2020 has been… shall we say… an interesting year. It's certainly been a year of surprises in the eCommerce industry. (All those people who mocked you back in 2016 for starting a store that only sold toilet paper and banana bread baking supplies—now who's laughing?)
Customer spending has been transitioning steadily away from in-person shopping and toward eCommerce for more than a decade—but the pandemic hit that transition with a blast of Fast and Furious NOS. An IBM study this summer found the pandemic accelerated the shift to eCommerce by five entire years; the eCommerce industry wasn't projected to be where it is today until 2025. And while the numbers aren't final yet, online spending during this year's holiday season is projected to grow by a record 30 percent.
Click-and-collect is projected to finish the year up 60 percent, far above any expectations before the year began. And eCommerce spending is up in almost every category across the board (with the exception of a few, like luggage).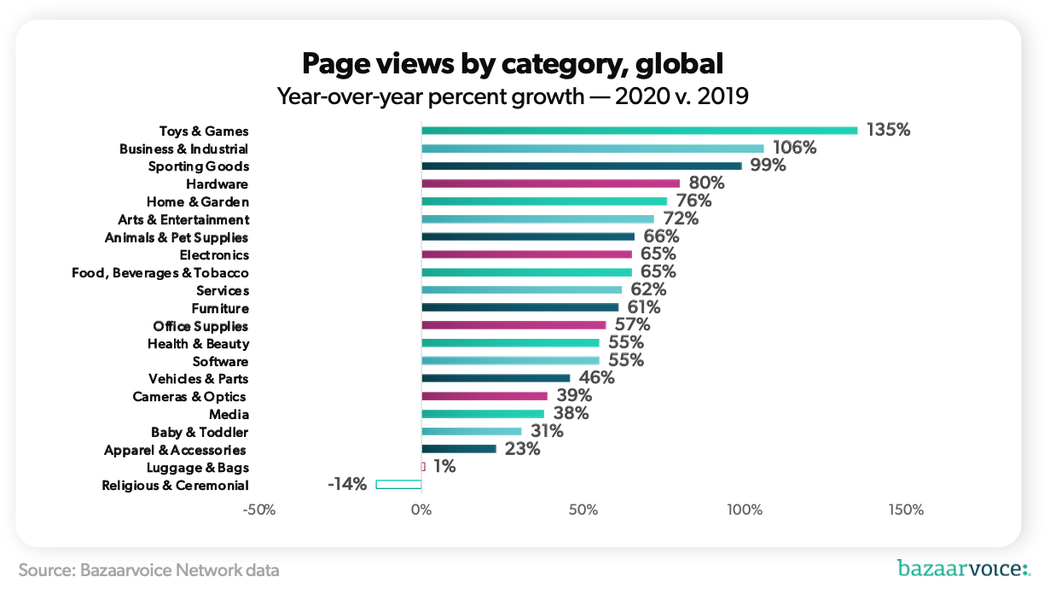 While we all hope 2021 brings a return to more normal life, some of the changes in customer behavior are likely here to stay—and eCommerce is likely going to continue its rapid growth. That's good news for anyone in the eCommerce world—better than being in an industry that's contracting, right?—but can also be a double-edged sword. As eCommerce continues to grow—and grow faster than projected—the competition will only get tougher. The top 10 U.S. retail giants, like Amazon, Wal-Mart, and Best Buy, now hold roughly a 60 percent market share and aren't slowing down. While there's still plenty of spending to go around for stores outside of the top 10, new stores are launching all the time—so this isn't the time to passively sit back and expect this eCommerce wave will shower you in cash.
Here are seven New Year's resolutions eCommerce brands should make to grow their market share, increase their sales, and continue to thrive in 2021 and beyond.
1. Collect more email addresses
As Content Marketing Institute founder Joe Pulizzi says, "An email list is critical because you can't build your content on rented land." Email is the one marketing channel you fully own. You can't have your content buried by a surprise algorithm change, no one can charge you extra to reach your full list, and it's still the most used online communication platform. (Think Facebook's 2.7 billion users is impressive? That pales in comparison to the more than four billion people who use email. Email use eclipsed 90 percent of online adults at the turn of the century and has never dipped back below that number.)
And it works, too. Email is 40 times more effective for acquiring new customers than Facebook or Twitter, and email has an ROI of 38:1. That's not too surprising when you consider 91 percent of U.S. adults actually want to receive promotional emails from companies they like, and email is the preferred method of staying up-to-date about business promotions for 60 percent of people. Last big statistic: Email generates three times more orders than social media and results in a 17 percent higher average order value.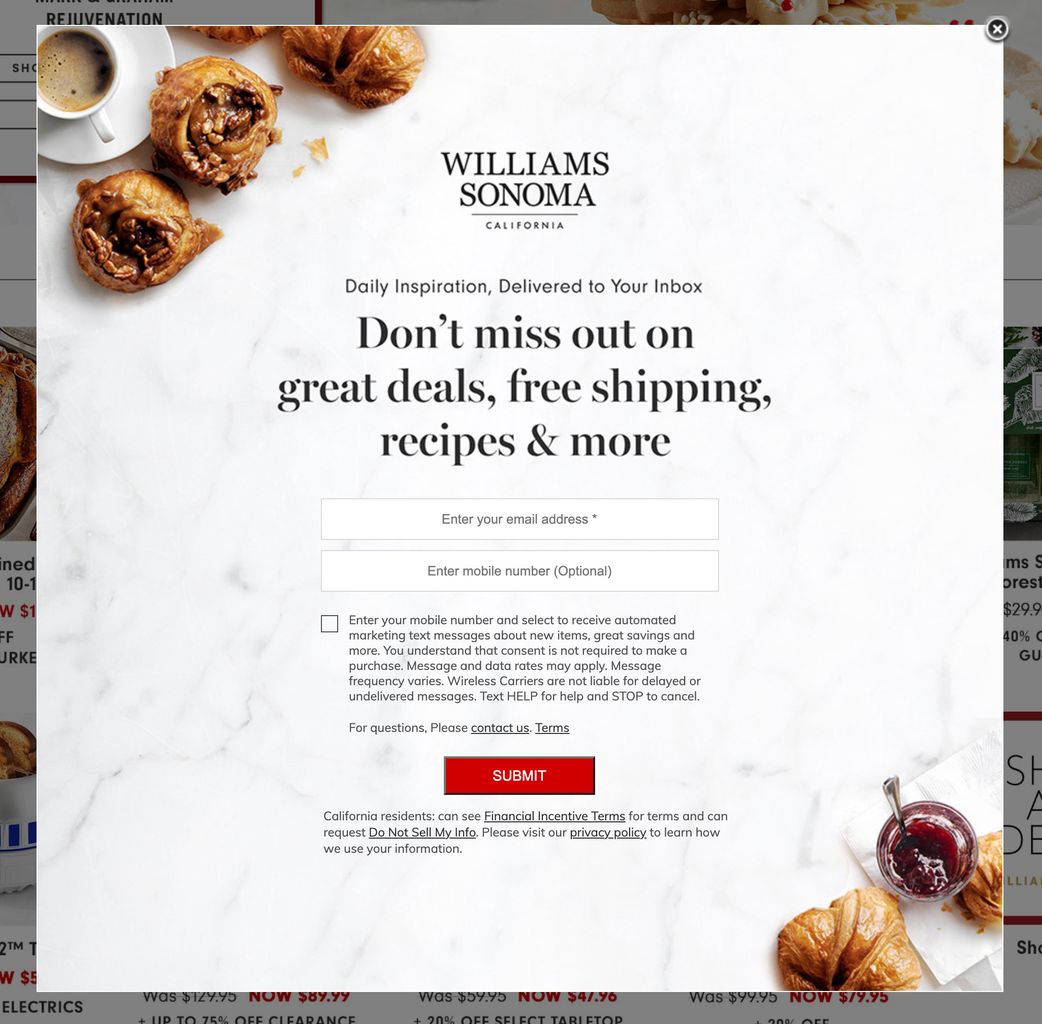 That's why growing (or starting to build) your email list is perhaps the most important thing you can do for your online business in 2021.
Step one: Figure out how you're going to motivate visitors to your store to subscribe to your list. The main question you must address for potential customers is: "What's in it for me?" Maybe it's a discount, maybe it's great content, maybe it's a lead magnet like a free download or free gift—you just need to pick the right incentive for your potential customer base. Check out our deep dive into incentives to get a better idea of how to pick the best motivator to encourage visitors to subscribe to your list.
Step two: Step up your email collection. There are a number of on-site techniques you can use, as well as content and social media marketing strategies. At a bare minimum, make sure signup forms showcasing your incentive are prominently featured around your website, and consider using a pop-up to grow your list even faster.
Here's an example from Williams Sonoma where we can see they've clearly taken both of those steps. This is a large pop-up that greets a first-time visitor scrolling on their site. It makes it very clear what incentives it's offering: "great deals, free shipping, recipes." And the signup is as easy as just entering an email address and hitting submit, although they also optionally collect mobile numbers for people who want SMS notifications as well.
Then, once you're growing your list, you can move onto the next resolution: maximizing its value.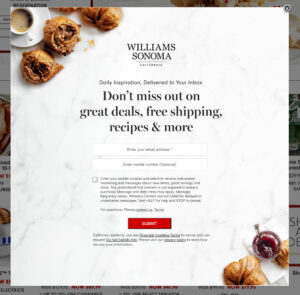 2. Send emails every day
Yes, you should send emails every day. No, that doesn't mean you have to send a promotional broadcast email to all of your subscribers on a daily basis—in fact, you probably shouldn't. (Unless, of course, you promised a daily email when they signed up and set that expectation.)
Automations are the key to sending emails every day. Automated emails are generally far more lucrative than one-off broadcasts (based on our latest numbers from stores using Jilt, automations bring in roughly 28 times more revenue per email than broadcasts!). And since automations are triggered to send automatically (it's not just a clever name), once you set them up, they'll keep sending in the background without any additional effort on your part.
There are six main automations we recommend setting up for your store:
Cart abandonment. If you only set up one, make it cart abandonment recovery emails—they are often the highest revenue emails you can send.
Welcome new subscribers. These emails go out to people who subscribe to your list before making their first purchase.
Thank you to first time customers. These emails thank first-time customers and begin the all-important process of nurturing them into repeat customers.
Post-purchase follow-up to repeat customers. You should send some automated email to repeat customers, whether it's an invitation to your VIP or loyalty program, a request for a product review, or just a general thank you.
Replenishment reminders. Replenishment emails go to customers automatically when their supply of a consumable product is running low.
Win-back emails. Win-backs go out to lapsed customers who haven't made a purchase in a predetermined time frame to try to get them shopping with you again.
Here's an example of a win-back email from West Elm. It starts with the non-accusatory subject line ("We miss you!") and then introduces a fairly large discount to try to win back a lapsed customer.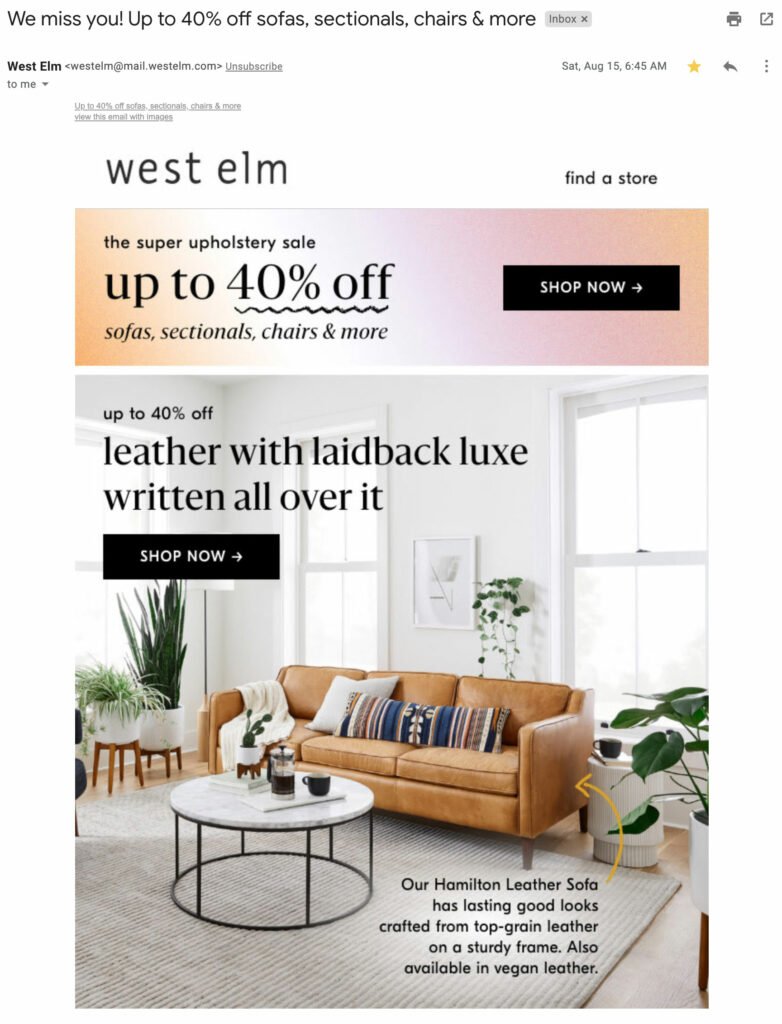 Once you have those automations running, you should be able to hit the goal of sending emails every day. As your store grows, automations will help you send more and more emails to customers, but without overwhelming everyone on your list with too much communication. The best part? The machines will handle that daily process for you. While you will want to update your automations occasionally, they're by-and-large a "set it and forget it" marketing asset. More emails, leading to more revenue, with less work. What's not to like?
3. Simplify your checkout process
Take a second and think about your checkout process. How many pages is it? What steps do you require customers to take? The average checkout flow has 5.08 steps and 50 percent of sites ask for the same information more than once during checkout. Long, repetitive checkouts (along with other annoyances, like address validation, forced account creation, or the inability to see if a coupon code works before beginning the process) are one of the leading causes of cart abandonment.
Your number one goal is to get people who visit your site to buy your products—not just put products in the shopping cart, not tell their friends about your site (though that's nice), but actually checkout, meaning enter their billing and shipping information and complete their order. Why make that process any more difficult than it needs to be?
In 2021, resolve to reduce the friction in your order process: allow guest checkout, reduce the number of pages, audit the information you require and remove anything that's not absolutely necessary (do you really need work and personal phone numbers?!), don't ask for the same info twice, use clear calls-to-action (like "Enter billing information" instead of "Next"), and consider adding faster payment options like PayPal or Amazon Pay.
Here's a really smooth checkout process from the mechanical keyboard website Kono. They have a two-screen checkout process. While the second screen is the standard (and quite optimized) Shopify checkout, we really like the first screen, as seen below. It shows cart contents, lets you calculate shipping and enter discount codes in advance so you won't get hit with any surprises, and gives alternate payment options to make the checkout process go even faster.
4. Nurture repeat buyers
Repeat customers are one of the most important assets for an eCommerce business. It costs approximately five times more to get a new customer than sell to an existing one. Returning customers spend an average of 67 percent more than new ones. And loyal customers can become your best brand advocates; by the time a customer makes 10 purchases, they've referred an average of seven people to a site—and those people spent around 75 percent of what the initial customer spent. (PDF)
Bottom line: When you increase your customer retention rate by five percent, it can increase your profits by 25 percent to 95 percent.
That's why it's so important to focus on turning one-time customers into repeat customers, and turning repeat customers into loyal brand advocates. Here are some of the strategies you can use to make that happen.
VIP and loyalty programs. VIP and loyalty programs are a legitimate win-win. Loyal customers get rewards and perks for shopping and/or recommending your store to friends; you make more sales and see a higher average customer value. You should definitely set up a VIP and loyalty program with different reward tiers, as those can motivate customers to spend just a little bit more, or to choose you over a competitor, in order to reach the next tier.
Exclusives and early access. When you have new products coming out, give your most loyal customers early access. That will make them feel special—and the ticking clock of "early access" will motivate them to be the first ones to buy.
Advisory council. If someone loves your brand enough to buy from you multiple times, odds are they have some opinions on what kind of products or improvements they'd like to see. Give them a real opportunity to be heard, and then keep track of their suggestions to let them know when their ideas have been implemented.
Referral incentives. You can tie referral incentives into your VIP program or keep them separate; either way, you want your loyal customers to be incentivized to recommend your store to their friends. Recommendations from friends are the most trusted form of marketing, so the more you can have your fans out there spreading the word, the better.
Gamification. If you can turn the shopping process into a game, you can keep your best customers engaged, entertained, and interested. Plus, games can really help motivate customers to spend more, recommend your store to friends, or both.
Here's a post-purchase follow-up email from AcousticSheep that uses the offer of bonus loyalty points to solicit a product review. (Quite the two birds, one stone scenario.) It's a good way both to entice a loyal customer to leave a good review, and to get them more involved in the loyalty program to (hopefully) get them spending more.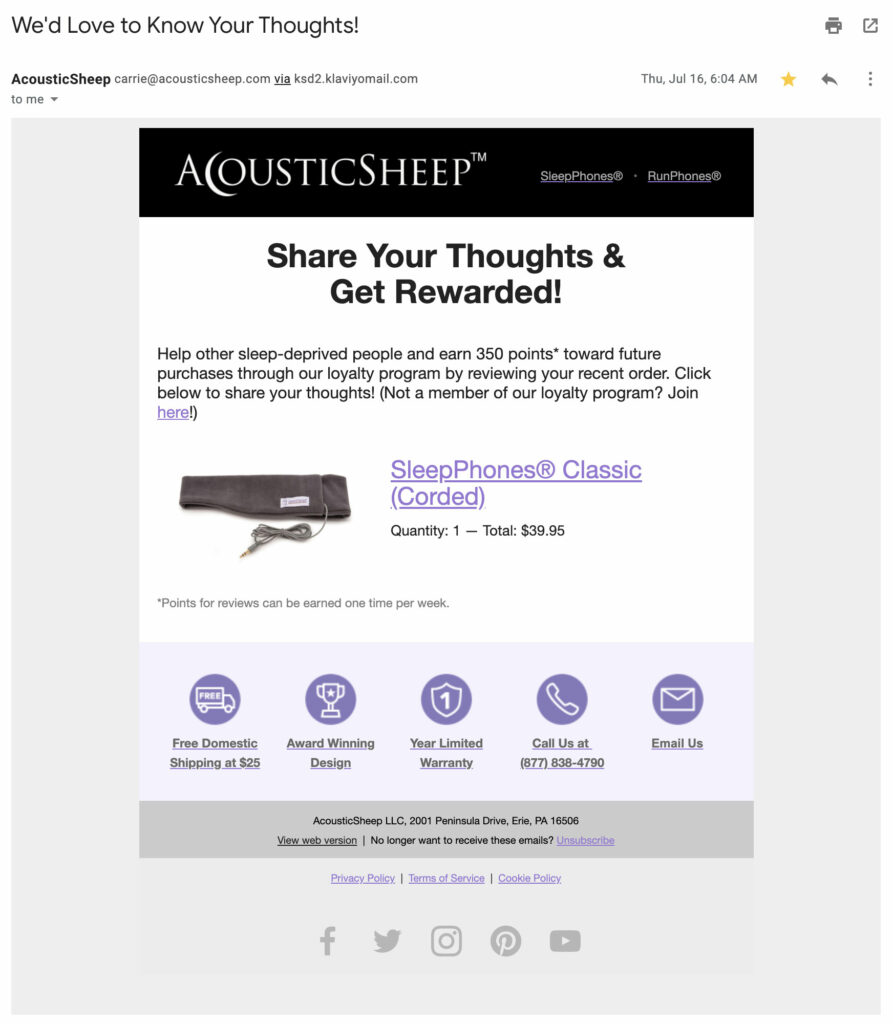 5. Understand who your customer really is
It changes everything when you really understand who your customer is—especially if it's not who you thought it was when you started. Sam once started an eCommerce business thinking my target customer was hipsters in their 20s and 30s, then shifted to families with teenagers, and finally wound up on grandparents buying gifts. You can imagine how that influenced my approach. Everything changes when you really get a handle on your customer and form a clear picture of your buyer personas. Your marketing angles, on-site and email verbiage, advertising, product development, social proof—it all comes together once you can picture exactly who you're selling to.
Of course, it's not easy to get that full understanding who your customer is. It takes quantitative information like analytics, customer data, survey results, and competitive research and it takes qualitative information like customer interviews and customer service interactions.
Make 2021 the year you gather the information you need to really put together a clear picture of your buyer personas and identify your target customers.
If you have Google Analytics set up for your store, it can be one really good spot to start gathering your buyer persona data.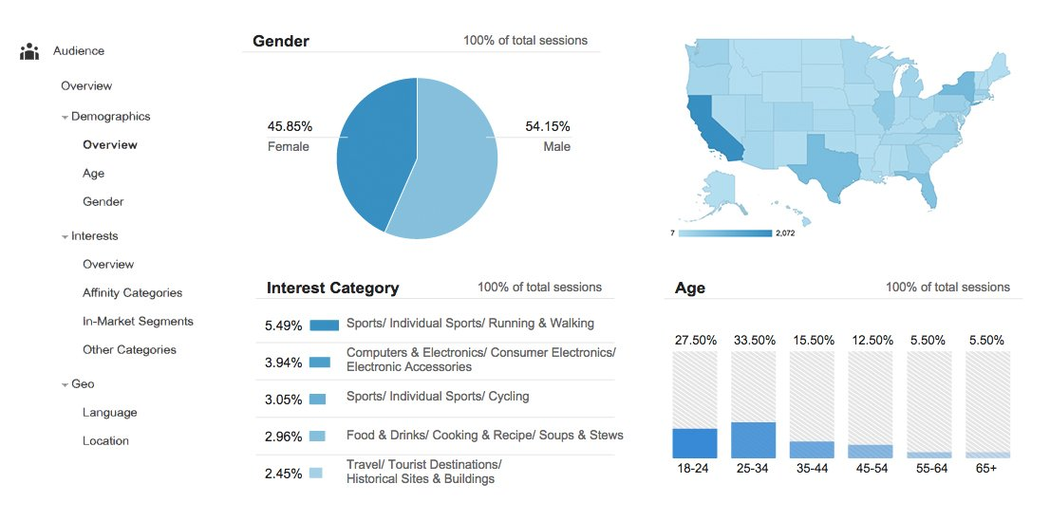 6. Improve your product pages
You can spend a huge budget on advertising, have a robust and textbook-perfect email and social media marketing strategy, and fully understand your target customer—but if the customer experience on your site is mediocre, none of that is going to pay off like it should. We've all had that moment where we saw an ad for a product that looked great, clicked through, definitely could've been convinced to buy—then bounced when we saw the typo-ridden, painfully slow, hard-to-navigate website.
Refresh your product pages this upcoming year to make sure they're giving your products the showcase they deserve. Here are some areas to consider:
Does your product page take a customer down the sales funnel? The sales funnel is a four-step process: awareness, interest, decision, action. Your product page should guide a customer down that funnel. For awareness, introduce your product and what it does. For interest, showcase it through photography and the product description. For decision, make it clear how the product fills a need in your customer's life—often with social proof and reviews. And for action, have a clear call-to-action to buy the product and offer a reason why they need to buy now (like low stock).
How are your photos? Did you get professional photos, or are you using pictures you took with an iPhone that are pretty good but something's just a little off? Do you have photos showcasing people using your product the way your target customer would want to use them? Could a nice video help sell your product even better?
How are your product descriptions? Are your descriptions making your product differentiators clear? Are they speaking to your target customer in an authentic way?
Are you trustworthy? Does your site look professional, or would a customer have even an inkling of concern you might just take their money (or credit card number) and then run off and share it with a Nigerian prince who is just going through a rough patch? A professional design, social proof, reviews, real physical address, active social media, and "About us" page showcasing the real people on the team all go a long way toward adding credibility.
Do you have social proof? We've mentioned social proof a couple of times already in this list, and that's because social proof, like reviews and testimonials, go a long way toward selling your products. Embedding real independent people's social media posts or reviews collected by a third-party source are both very powerful—your customers know those are trustworthy and not just you padding the stats.
Do you upsell and cross-sell? If this is applicable to your store, add comparisons between different tiers of products you sell—you can strategically position one product against a higher end option to try to upsell some customers. And always cross-sell relevant items to accompany your customer's purchase.
Is everything easy? Do you make it easy to add the product to your cart, to see how much everything will cost (including shipping, taxes, fees, and discounts), and to pay?
This product page from The Black Tux may be one of the best we've ever seen. It hits every phase of the sales funnel. It uses high-quality photography. It makes the ordering process feel remarkably easy. The product description is tight but speaks exactly to what the target customer wants. It features cross-sells. It deploys user-generated social proof along with a large quantity of helpful reviews. The design is professional and everything about the site feels 100 percent trustworthy. Really, it's a master class in product page design.

7. Never stop learning
It's more or less impossible to know everything there is to know about eCommerce (and business as a whole). No matter how advanced you are, there's always more out there to learn. And even if you're sure you know everything, remember the industry is always changing and evolving. Going into 2020, who would've thought click-and-collect would be an eCommerce gold rush? Going back a little further, ten years ago, there wasn't even such a thing as WooCommerce—now it powers 28 percent of the eCommerce stores and five percent of all the websites in the world.
To improve your knowledge of email marketing, we recommend Jilt Learn, a new online education and reference resource we launched this year that can teach you about all things eCommerce email marketing. If you're a beginner, the lessons will help you develop some real expertise; if you're an expert, you'll still pick up some new tips, tricks, and ideas. There are also a number of websites, videos, courses, and books that can help you level up your eCommerce education.
Your resolution list
As we move into the new year, eCommerce is bigger than it's ever been (and growing!), so resolve to budget some of your time toward improving and growing your eCommerce business.
Collect more emails. Email marketing remains the most effective form of digital marketing and should be a priority for your store now and in the future. Take the necessary steps to grow your list this year: figure out the right incentive to entice people to subscribe to your list, then start collecting.
Send emails every day. You should be sending automated emails every single day—and most of that sending will happen in the background without you having to lift a finger. Get the "big six" automations rolling for your store so they can get to work for you.
Simplify your checkout process. A long checkout can hurt sales and lead to more cart abandonment. Tighten up your checkout process, reduce the number of form fields and pages, and make it easier to go from the decision to buy to "your purchase is complete."
Nurture repeat buyers. Repeat customers are the lifeblood of eCommerce businesses—they're the most lucrative customers and the ones most likely to recommend your brand to others. Set up programs to take care of frequent customers like VIP and loyalty programs, advisory councils, and referral incentives.
Understand your customer. When you have a clear picture of your buyer personas, it makes every aspect of your business come together. Of course, getting that picture is a challenging project—but it's one that's worth investing your time into this year.
Improve your product pages. Are your product pages closing sales as well as they should? Re-examine every detail of those pages, including product descriptions, photos, reviews and social proof, trustworthiness, upselling and cross-selling, and ease of use.
Never stop learning. eCommerce is always evolving and there's always something new to learn. Stay ahead of the game—and ahead of your competitors—by allocating some of your time to your ongoing eCommerce and business education.
Editor's note: The above is a guest post from our friends at GoDaddy.